Donnie Yen at his best

Forget "Flashpoint". "Ip Man" shows Donnie Yen at his brutal best. Telling the story of Yip Man, the man believed to have popularized the martial art of Wing Chun, before and mostly during the Sino-Japanese war.

Yen caught my attention after seeing him in "SPL". Then in "Flashpoint", I was stunned by his moves, and thought he was the next Jet Li. Well, after this I think he may very well be the next Bruce Lee. I mean it! Not only injecting humanity and superb characterization, Yen also demonstrates his brutality when it comes to fighting. And boy, it does not get more brutal than this! Seriously, Yen's fists move like machine gun bullets. And he makes sure that his opponents are down for the count... at their expense, and our enjoyment. Definitely Yen at his bruising best.

Other actors worth mentioning, Simon Yam and Hiroyuki Ikeuchi as Ip Man's business partner/friend and the Japanese General respectively. The former portrays Ip Man's comrade with heart, while the latter performs with steely resolve and honor. This is a film that is not just made with action, but a good story as well.




The fight scenes here are arguably Yen's best so far, and the best in over a decade. People are getting beaten, martial arts duels are taking place, and blood is spilled. This is not an action movie, it's a kung fu movie. And it shows. Legendary kung fu star Sammo Hung brilliantly choreographs the fight scenes to perfection, and it looks like he's not going to slow down any time soon. The direction by Wilson Yip is slick and gripping as always, and he also gives the film a nice sepia tone to give feeling to the film.

In short, great. This is a must-see for kung fu film fans to get their adrenal glands pumping. It's one of the best kung fu films of the decade. See it if you have the chance.

Entertainment value: 9/10

Overall: 8/10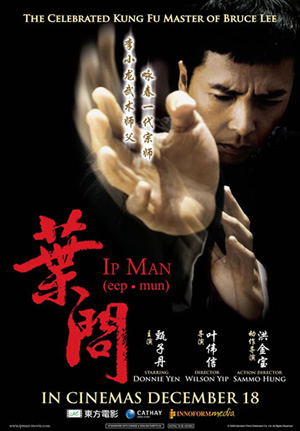 _________________________


A Nutshell Review: Ip Man

9/10 stars

I shall now proclaim unabashedly that I absolutely love this movie! It's been some time since we last saw a biopic on one of the Chinese's martial arts folk heroes, with Jet Li's Fearless being the last memorable one to hit the big screen. While Li lays claim to three of such roles in the iconic Wong Fei Hung (in the Tsui Hark movies), Fong Sai Yuk and Huo Yuan Jia in Fearless, after which he felt he had to hang up his martial arts roles because he thought that he had communicated all that he wanted about martial arts through these films. And thank goodness for Donnie Yen still being around to pick up from where the genre left off, and presenting a memorable role which he truly owned, with Ip Man being the first cinematic rendition of the Wing Chun martial arts grandmaster.




In this bio-pic, Ip Man, one of the earliest Wing Chun martial arts exponents credited to have propagated its popularity, gets portrayed as the best of the best in 1930s Fo Shan, China, where the bustling city has its own Martial Arts Street where countless of martial arts schools have set up shop to fuel the craze of kung fu training. With each new school, the master will pay their respects to Ip Man and to challenge him to a duel. Ip Man, an aristocrat who spends most of his quality time developing and perfecting his brand of martial arts, will take them on behind closed doors, so as not to damage his opponents' reputation nor embarrass them in public. His humility is his virtue, and his style is never violent or aggressive, which often gets assumed and mistaken for being effeminate, since Wing Chun after all was founded by a woman.

The bulk of the story gets set in the outbreak of the Sino-Japanese war, and it's not all fight and no story. Witth this historical setting, at times it does seem that there is an air of familiarity with the type of stories told, with how the Japanese Imperial Army had made life really miserable for the Chinese, and how the Chinese being fragmented in spirit, fail to unite during dire straits. More often than note, martial arts become a unifying force, and this aspect of the narrative might seem to be a walk in the usual territory.




But with its array of charismatic supporting cast with the likes of Simon Yam as Ip Man's best friend and industrialist Quan, and Lam Ka Tung as a cop turned translator, there are little nicely put sub plots which seek to expand the air of respect that Ip Man commands amongst his community. The story by Edmond Wong did not demonize all the villains, often adding a dash of empathy and sympathy to the likes of the Japanese General Miura (Hiroyuki Ikeuchi), a highly skilled exponent from the North called Zhao (Fan Siu Wong) as well as Lam's translator character who is deemed as a traitor for being in the service of the Japanese. Ip Man the family man also gets put under the spotlight, where his passion could sometimes leave him neglecting his wife and kid, and through the course of the story this focus often leaves one quite exasperated for his family's safety as he puts his countrymen above self and family when going up against the oppressive Japanese forces.

So what's the verdict on the action? Action junkies won't have to wait too long before watching Ip Man in action, and to Sammo Hung and Tony Leung Siu Hung's credit, they have intricately designed some of the most varied martial arts sequences in the movie, such as private fights in his home, a factory mêlée, a Japanese dojo battle as seen in the trailer, (which I know has actually sent some positive vibes amongst moviegoers, mouth agape at that incredible scene of Yen continuously beating down a karateka) being somewhat of a throwback and reminiscent of Bruce Lee in Fists of Fury, and a ringside duel amongst others. And it's not just Ip Man who gets in on the action, but specialized martial arts moves designed for the various practitioners as well. It's so difficult to name any particular one as a personal favorite, though I must add that you definitely won't feel short changed by the time the inevitable final battle comes rolling along and gets delivered with aplomb.




I'm no Wing Chun practitioner, but Donnie Yen has this marvelous calm and zen like approach with his Ip Man taking out his opponents quite effectively with the minimal of moves. Like Huo Yuan Jia, he doesn't deliver the killing blows to friendly opponents, but rather simulates the various hit points, which actually calls for some astonishing control of strength and precision. This approach will change of course as the opponents become anything but friendly. And unlike the usual martial arts stance of crouching low, here we see him standing tall and striking with such precision and efficiency, it's like poetry in motion with some astounding closed quarter combat utilizing plenty of upper limb strength.

With Wong Kar-wai at one point also declaring interest in making a Ip Man movie, I thought that this effort will be hard to beat, just like how Tsui Hark has crafted some of the more definitive movies in modern times about Wong Fei Hung and Jet Li benefiting from a major career boost, I'd say Ip Man just about cements Yen's reputation as a martial arts leading man, which I guess the cinematic world these days severely lacks. This has to go down in my books as one of my favorite movies of the year, and I'm already setting some money aside to get the best available edition of the DVD when it gets released. Highly recommended, so make a beeline for the box office now!